Ten ways to combat racism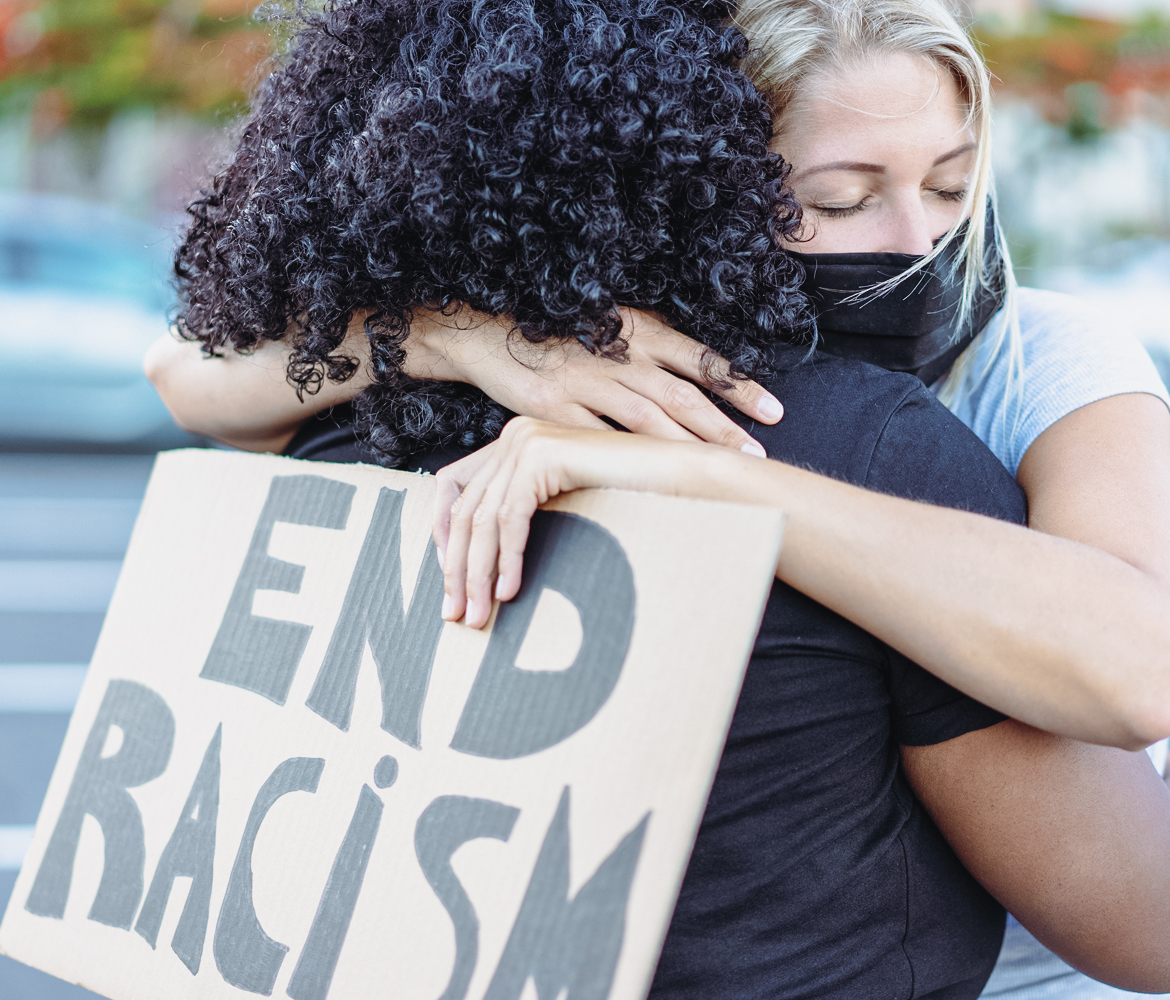 In response to calls for racial justice on both sides of the Atlantic, JCORE has produced a list of ten suggested actions for the Jewish community in Britain.
These include calling out and reporting racism; teaching Jewish children about Black history and experience; and backing the campaigns for justice for Windrush victims and for a memorial to victims of the slave trade.
Below are some steps we can all take to help combat racism.
Call it out, wherever you find it, and report racist abuse and attacks offline and online. You can report hate crime to the police, a Third-Party Reporting Centre and groups like Tell Mamaand StopWatch.
Commit to acting as an ally in solidarity with other communities, understanding that while different forms of racism have distinct features, Antisemitism, anti-black racism and Islamophobia have connections.
Put pressure on communal organisations to tackle racism more broadly, including directly calling out incidents of racism when they occur.
Take a personal responsibility to learn and reflect. Educate ourselves by reading and listening to those who face and know anti-black racism, and familiarise yourself with black writers. Use this knowledge for personal introspection, and while it can be uncomfortable, seek to become aware of and address our own often unconscious biases.
Push communal organisations to better hear and represent voices of Jews of Colour.
   Challenge your synagogue and other communal groups you are in to commit to being safe spaces for Jews of Colour, and encourage your community and communal groups to recognise, welcome and promote the involvement of Jews of all ethnic backgrounds.
Establish committees that oppose racism within these spaces, and work alongside other communities to fight racism and prejudice in your local area.
   As recommended by the Board of Deputies' 'Commission on Racial Inclusivity in the Jewish Community', urge your children's schools to ensure Jewish children are taught about black history and experience beyond slavery. Encourage schools, cheders and youth groups to broaden, transform and decolonise their curriculums and provide anti-racist education. Visit the Black Curriculum's websitefor helpful education resources.
Discuss anti-racist issues within your home. Contact JCORE if you would like advice on further resources to assist with such conversations.
Push your employer to go beyond making a statement of solidarity; ensure that they are racially and ethnically diverse and have policies and procedures in place to counter racism and discrimination.
Call out unjust recruitment practices and challenge any bias you see in the workplace.
Despite the Covid-19 pandemic laying bare the extent of racial and ethnic inequalities and injustices in this country, the recently released Sewell Report has insultingly sought to downplay the existence of institutional racism in the UK.
Worryingly, the report also contradicts the more than 200 recommendations made in previous reports seeking to address unacceptable levels of racial inequality in housing, health, education, employment and criminal justice.
Write to the Prime Minister, and call for the Sewell report to be urgently withdrawn and the previous recommendations immediately implemented, and for a comprehensive race equality strategy to be implemented.
The  campaign for a permanent memorial to victims of the transatlantic slave trade has been running for over a decade. Planning permission was granted in 2016 for a sculpture in Hyde Park, but was lost last year because the campaign didn't have the £4m needed to build it, and the government refused to provide the extra funds required.
The government must reconsider this decision, and give funding without delay to ensure this important part of British history is recognised, and used as an education opportunity. Please write to the Prime Minister urging him to take action on this.
Despite the Windrush Compensation Scheme having a potential budget of up to £500m, only 60 people received compensation during the scheme's first year of operation and just £360,000 was paid out. Many of those waiting for compensation lost their jobs as a result of the scandal, and subsequently accrued debts which they are unable to pay off until they receive compensation.
Write to your MP and campaign for the scheme to be made far more accessible, and lobby the government to honour its promise to fully implement the full set of recommendations from the Windrush Lessons Learned Review to address institutional racism within the Home Office. Visit the Runnymede Trust's websitefor ten urgent Windrush recommendations the government should implement.
   Join with others in the Jewish community to build a campaign against child poverty, which disproportionately impacts BAME communities. 45% of BAME children live in poverty, compared to 26% for the rest of the population. Worryingly, the economic impact of the coronavirus pandemic is likely to make this situation even worse.
The 'No Recourse to Public Funds' visa condition prevents people subject to immigration controls from accessing social housing and many welfare benefits. This has resulted in over 100,000 children in the UK living in poverty. Take action, and lobby for this condition to be scrapped.
Fighting for racial justice also involves fighting for migrant justice. In late March, the government announced its deeply worrying planned proposals for the UK's asylum system, the 'New Plan for Immigration'. Despite promising fairness, the plans are extremely worrying, and if implemented, would result in the creation of a cruel two-tier system, dividing refugees according to the routes they take to reach the UK when fleeing persecution and conflict.
​
The plans also form a shameful attack on the automatic right to claim asylum, and would limit family reunification rights, leaving vulnerable child refugees at further risk of being stranded and separated from their families. With the 'Dubs Scheme' now closed, there are also no safe and legal routes for refugee children to come to the UK. A properly funded programme must be introduced in its place.
Download JCORE's briefing and join our campaign to oppose these awful proposals.
​
The latest Home Office Immigration Statistics show a backlog of almost 65,000 asylum cases, a record high, with a staggering 72% of those waiting over 6 months. Despite this, asylum seekers are banned from working until they have waited over 12 months for a decision, and are still only then eligible for a very limited shortlist of jobs. With the government announcing an insulting 3p/week rise to asylum support in October 2020, campaign to #LiftTheBan and help people seeking asylum escape destitution.