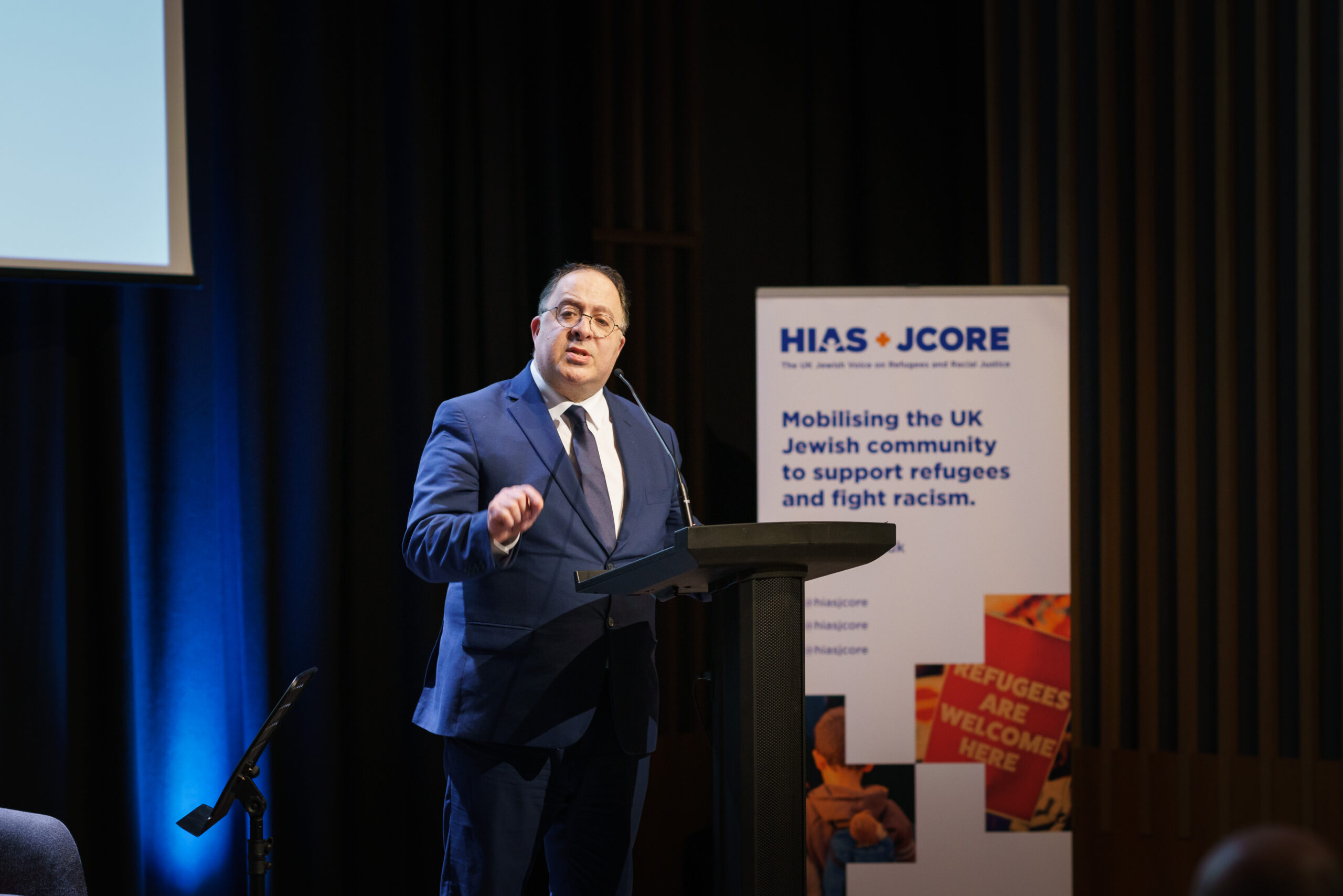 Last night, HIAS+JCORE celebrated its launch at JW3 with over 200 guests in attendance, and many more around the world watching the livestream. The event followed last year's announcement that HIAS and JCORE were forming a new combined entity in the UK to enhance the Jewish response to issues of asylum, refugees, and racial equality. With this launch, HIAS is now providing critical services to forcibly displaced people in 23 countries in Africa, Europe, the Americas and the Middle East.
Tuesday evening's celebration began with a joint welcome from Adam Rose, Chair of HIAS+JCORE, and Mark Hetfield, President and CEO of HIAS.
"Joining forces with HIAS enables JCORE to do more campaigning with a louder voice and a bigger reach. HIAS+JCORE will lead the UK Jewish community's voice on anti-racism and asylum and refugee issues, amplifying the voices of support from our community for those communities and for the individuals who can benefit from our support," Rose said. "With this new arrangement, we gain access to a more global platform, to be part of a world-wide campaign and group of activists. At the same time, HIAS+JCORE will be very much a British charity, led from and leading our community's response to race, refugee and asylum issues, and primarily responsible for its own fundraising."
"This launch celebration for HIAS+JCORE marks a significant milestone for all of us, as we expand our international presence by bringing together two organisations with long histories of supporting refugees and asylum seekers," said HIAS President and CEO Mark Hetfield. "We are thrilled to formally welcome the first Executive Director of HIAS+JCORE in the UK, Rabbi David Mason, whose experience and leadership will further elevate the Jewish response to the global displacement crisis. We are also honored to build on the foundation established by JCORE founder and Honorary President Dr Edie Friedman, as we continue JCORE's historic work for racial equality in the UK."
Yalda Hakim, Chief Presenter on the BBC, gave a talk entitled Afghanistan: No Country for Women, which included a short film from her recent visit to Kabul.
Dr Edie Friedman, JCORE's Founder and Executive Director, took the audience through a slide show and moving talk on the many highlights of her 46-year journey leading the organisation.
Adam Rose then presented Dr Friedman with the Lord Dubs Award, a new annual award for contribution to the causes of race relations and the rights of asylum seekers and refugees. An additional presentation was made by Anna Isaacs, Dr Friedman's daughter, of a souvenir album with photographs and press cuttings from her 46 years' work.
The event concluded with the formal introduction of HIAS+JCORE Executive Director Rabbi David Mason who outlined his ambition for the new organisation.
"I want to mobilise the UK Jewish community to support and advocate for refugees and asylum seekers, as well as for a society that combats all forms of racism along with growing antisemitism. And we will mobilise with our values of Rachamim (Compassion), Arvut (Responsibility), Shlemut (Solidarity) and Gishur (Partnership), to bring the Jewish voice to the table, to support refugees and fight racism."